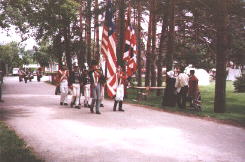 Re-enactment at Stoney Creek
This weekend the city of Stoney Creek Ontario honoured the war dead from the United States, Canada and Great Britain who fought in the Battle of Stoney Creek back in 1813. On King Street everyone stood silent as a nineteenth century carriage brought a single white coffin draped in both the American flag and the Union Jack. American military pallbearers from Fort Meyer, Virginia, wearing the white wigs and blue coated uniforms carried the casket to the new cript built at Smith's Knoll. Canadian soldiers of today stood with veterans of wars gone by and re-enactors to pay their last respects.
Rev. Duncan Lyon began the reburial service, with full military honours with a prayer over the remains of 21 unknown American and British soldiers killed in the battle. The purpose of this weekends rededication of Battlefield Cemetary was to officially re-open it as a National Historic Site and to re-inter the remains of the soldiers who died in the battle with full military honours.
The weekend also saw the battle re-enacted on both Saturday and Sunday with fireworks on Saturday night. Tecumseh gave two outstanding performances on Saturday as well as Sunday. Once again the re-enactors did an outstanding job showing the people in the crowd what warfare was like in the War of 1812.