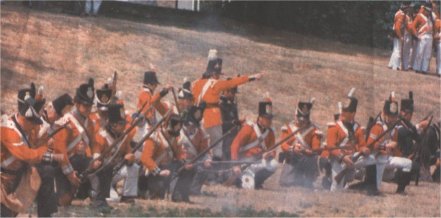 Lundy's Lane 2001 Re-enactment
Sunday July 22nd 2001 history is repeated. The Battle of Lundy's Lane was re-enacted for the first time on what is left of the original battlefield. Prior to the re-enactment the annual commemoration service was held in the Drummond Hill cemetery to pay respect to the soldiers and warriors who fought in this battle. On the battlefield there was a demonstration on the loading and firing of muskets. David Owens provided narration of the re-enactment.
CLICK HERE to see photos of the Re-enacment.