A View of Fort George, Upper Canada from Old Fort Niagara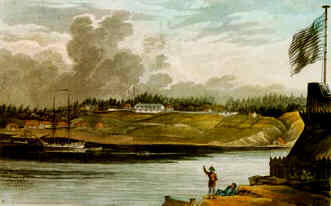 This view of Fort George from the American side illustrates the 'strategic checkmating' along the Niagara River during the War of 1812.
Fort George, military headquarters of Upper Canada, was built in 1796 to replace Fort Niagara, then in the United States. The fort was captured by American forces in May 1813 -- just one month before the Battle of Stoney Creek in June of 1813. It was later largely destroyed by the Americans in December of that year on their withdrawal.