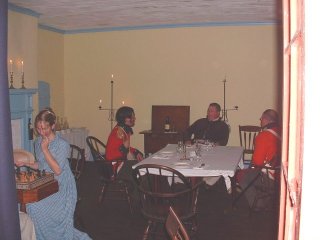 2003 Fort Erie Re-enactment
Re-enactors came from Canada and the United States to the annual Siege of Fort Erie Re-enactment. This years re-enactment started with the British surrender of Fort Erie on Saturday morning. The Americans attacked the fort and after the British fired a few token shots in defence, the U.S. forces breached the wall. A short time later the British garrison surrendered the fort. Saturday evening the battle started with both sides firing artillery. The Americans fired at the advancing British and Canadians. Then the British returned the fire on the Americans inside the fort. The British advance pushed the Americans off the field and into the fort. After a great deal of fighting the British get into the bastion. A short time later the powder magazine under the bastion exploded forcing the British to halt the assault.
Sunday morning there was a memorial service. The British, Canadian and American re-enactors marched back to camp in a light rain.
If you are interested in becoming a war of 1812 re-enactor CLICK HERE to contact one of the many units.
PHOTOS